OMG Siiiiiiiiiiiiiiiiiiiiiiiick Nancy Grace post-jam taunting!!!!
(clutches chest) Oh! This is the biggest one I ever had. You hear that, Dikembe? I'm coming to join you, homie!
Great work, Brad! Thanks!
Reader Chris shares this stirring photo he took at the Sydney Olympics, exhibiting Nancy's ability to dominate in the paint. It was an amazing moment, watching Nancy rain vengeance down on French suckaz.
Who's that getting posterized? Who f***ing cares, man?
More Tweets to Nancy Grace
If you're reading this site, it's no secret that Nancy Grave is not only a personal hero and a great ballplayer but also someone I consider a friend. Unfortunately, Nancy hasn't had the time to write back on Twitter yet, but I understand that she's got a crazy schedule. Until then, please enjoy at least one half of our conversation.
When they said I got brain damage from my abduction I didn't even notice anything. But then maybe I couldn't? #ttmygh 26 Jul
Sorry, maybe you aren't Tweet hip, but #ttmygh is a Twitter trending tag that means "things that make you go hmm." #hth 26 Jul
Anyway, the only thing I noticed afterwards was that everyone in my coloring book was crying, so I ran out of blue crayon. 26 Jul
Thinking out loud, but if the rain were crying, would we ever know? I'm sorry, rain. #ttmygh 26 Jul
I got in an argument with my friend yesterday. He says you can't dunk, but I said I saw you do it in the tournament in '79. 26 Jul
Could you do me a favor take a minute in your closing comments and say, "Don Hamilton, I can dunk. I dunk a lot"? Thanks. 26 Jul
He won't believe you can dunk, so until you say anything, I made this site:http://fuckyeahnancygracemonsterjams.tumblr.com/ 26 Jul
So far nobody's come by, so if you could say "Fuck Yeah! Nancy Grace Monster Jams" on air it would really help out a lot. 26 Jul
Sometimes I think they should put a warning label on the internet that says, "Caution, this place can be really lonely."26 Jul
I admit to TiVo'ing your shows before bed, but I watch a lotta things before bed. Like "Covert Affairs." Empowering. 27 Jul
What would deception be like, as a job? I might never tell people that I love quilts. Imagine that. 27 Jul
Are you ever afraid to go to sleep? Sometimes I wonder if hitting the pillow means there's nothing left. Forever. 27 Jul
I'm less afraid thinking you're unafraid. I think, "Nancy Grace can never die." Then I close my eyes & hope I won't either. 27 Jul
Please don't die. 27 Jul
I was thinking of sending you a brick with my thumbprint in it. If I did, would you like more? Like enough to build a wall? 27 Jul
I think it's weird, but I want to make you feel safe too. Not like you need it. But maybe if you wanted it? 27 Jul
Question: Let's say a criminal defendant refuses to testify. The prosecution calls him, but defense objects: 5th Amendment. 28 Jul
OK, but then a person enters the courtroom. It's the defendant FROM THE FUTURE & he wants to testify. Can he take the stand? 28 Jul
I mean, in theory the version of the defendant from the future has PRECEDENT, because he's weighed the results of the trial. 28 Jul
Anyway, answer me whenever. For now I uploaded a new cool pic of you ballin'.http://bit.ly/pMLF6D#boomshakalaka 28 Jul
Sorry if my posts were all over the place tonight, but I have to go now. I gotta watch Lopez. 28 Jul
Will Grundon sends in a brutal posterization he snapped courtside at a recent Big Sexhibition.
Once again, those restraining themselves harnessed massive dunk and punk power to climb all over faded ballers, while those who let themselves become party girls turned into lead-foot bitches.
Nancy Walks that ball up to the net like it's a Sunday afternoon.
Great catch, Will!
Great submission from friend-of-the-site CORY. He's heating up!
Haha! Thanks, CORY!
What you can do to help!
Since starting this site a couple of days ago, I've gotten a lot of those question thingies on Tumblr asking me how people can contribute or help. Since I don't want people to have to keep asking the same questions, here's a quick list of ways you can contribute!
1. Find and share other pictures of sick jams thrown down by Nancy Grace. Then either photo reply to this post, post the URL to the image in the "reblog this image and add a comment" field on another post (so I can see the URL and post it), or post the link here, in a comment here or simply email it to "Mobute.Sese.Seko @ gmail."
2. Talk a lot about this site on the Huffpo. Try to comment on every article. But make it relevant so you don't get spammed. Something like, "We should raise the debt limit to at least 46", which is the same as Nancy Grace's vertical leap, as I learned here, which is the best site on the internet. Better even than this one, which sucks by comparison."
3. Start your own user blog at DailyKos. Blog every day about this site.
4. Send everyone you know an email linking back here. Title the email, "Amazing Dunking and Board-Crashing Secrets Discovered by a Mom."
5. Start your own Nancy Grace Twitter feed. Claim the other one is an impostor. Challenge Nancy to a blog-off here. (I can host.)
6. Meet people in real life. Start conversations with, "I saw something cool on the internet." The cool thing is this site. Then ask if they want to watch Youtubes.
7. Get a back tattoo of Nancy Grace and this site URL. Then take your shirt off and go to Wal-Mart a lot. Appear on PeopleOfWalMart.com. (Note: don't do this if you're a girl, because nobody will take a picture of your back.)
8. Blog about your favorite Nancy Grace dunks on Tumblr. Then tell me about them so I can reblog them.
Way to go, everybody! Together we can make a difference!
Thanks!
Eli Pariser
Moveon.org
Tweets to Nancy Grace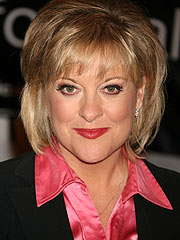 Unlike a lot of celebrities, Nancy Grace makes herself available to victims and fans by posting on Twitter. She wants people to be able to contact her to make themselves heard or maybe make a friend. I've been tweeting at Nancy lately because I believe I'm both. But Twitter doesn't save stuff for very long, so I thought I'd post them here.
Ms. Nancy Grace, watching your show has changed my life in ways I can't really express. But I'm trying. 17 hours ago via TweetDeck

I feel like I'm a more involved, dynamic and proactive citizen because of it. 17 hours ago via TweetDeck

This is probably a little weird, but do you use Herbal Essence? Sometimes I think I can smell your hair through the TV. 17 hours ago via TweetDeck

Do you remember those Herbal Essence ads in the 90s when the women cried out in pleasure in the shower? It doesn't matter. 17 hours ago via TweetDeck

Forget I said anything. 17 hours ago via TweetDeck

You have such a strong, assertive chin. Like Abraham Lincoln. "The Ol' Railsplitter." That's what I call your chin. #abe 17 hours ago via TweetDeck

I don't tell a lot of people this, but you're courageous & you inspire me. I have to wear a special metal mask, like Destro. 17 hours ago via TweetDeck

When I was a kid, I was abducted by foundry workers who were dragging this giant electromagnet. Turned my world upside down. 17 hours ago via TweetDeck

I guess they thought it was "OK" to take me with them because I "must have been drawn" to them by their magnetism. Ha, right 17 hours ago via TweetDeck

They honestly thought that was a legitimate excuse just because it was literally true according to the laws of physics. 17 hours ago via TweetDeck

My mom never shaved her legs above the knee, because skirts covered it up. I bet you're really efficient & smart like that. 17 hours ago via TweetDeck

You probably have a kinda thigh stubble or something. Not like Homer Simpson, but like a classy ladylike kinda stubble. 17 hours ago via TweetDeck

I want you to burnish the sides of my metal head with your thighs. Can you reverse-birth somebody? I want you to be my mom. 17 hours ago via TweetDeck

Nobody ever protected me, but I bet you would. 17 hours ago via TweetDeck

I know this is off topic, but at least once a week, I see a cloud that looks like OJ. 17 hours ago via TweetDeck

One of the guys who abducted me was a boy scout, so he figured out to demagnetize my head and abandon me in a field. #thanks 17 hours ago via TweetDeck

I was left on a farm outside Palatka, Florida. It was noon & the sun heated my metal head & dehydrated me & my brain swelled 17 hours ago via TweetDeck

They said I got brain damage, but that can't be true, because I understand your whole show even without the captions on. 17 hours ago via TweetDeck

Anyway, I would love to take you for coffee sometime if possible. BTW, I'm a really tall black guy. Is that a dealbreaker? 17 hours ago via TweetDeck